Why every traveller needs to go to Cuba
Every now and then you visit a country so unique, filled with so much culture and authenticity, that the memories from travelling remain with you forever. It's a place that is not only home to its own stunning landscapes, but people and a culture so different from anywhere else that you are wowed just to be within its borders. Cuba is just that.
For many years this small island nation has remained off most travellers radars. But in recent times, tourism in Cuba has flourished into one of its biggest industries. What draws visitors to its shores is the beautiful country, incredible culture, and uniqueness that can only be found in Cuba.  Here are just a few reasons why you should travel to Cuba!
 It's the 50's all over again!
Cuba is famous for being stuck back in time. As you wander around you will notice that old vintage cars fill the streets. Old colonial style buildings still stand tall and modern day luxuries like Wi-Fi are only found in select places. This is due to Cuba's sanctions that kept this country closed off from the rest of the world. Today though, these fine touches make Cuba one of the only time machines in the world.
One of the best ways to enjoy this step back in time is on a private vintage car tour of Old Havana. In these tours, you can roll around with the top down enjoying that Cuban sun all while learning about Cuba's history!
World class Salsa
Cubans love Salsa, and if you travel to Cuba you are guaranteed to see it first-hand. In a country that in the past allowed very little expression, dancing was a way to have fun and to tell a story at the same time. Throughout the country, you can find many different salsa bars and shows that include live music. These shows are filled with passion and can't be missed if you're after a true Cuban experience.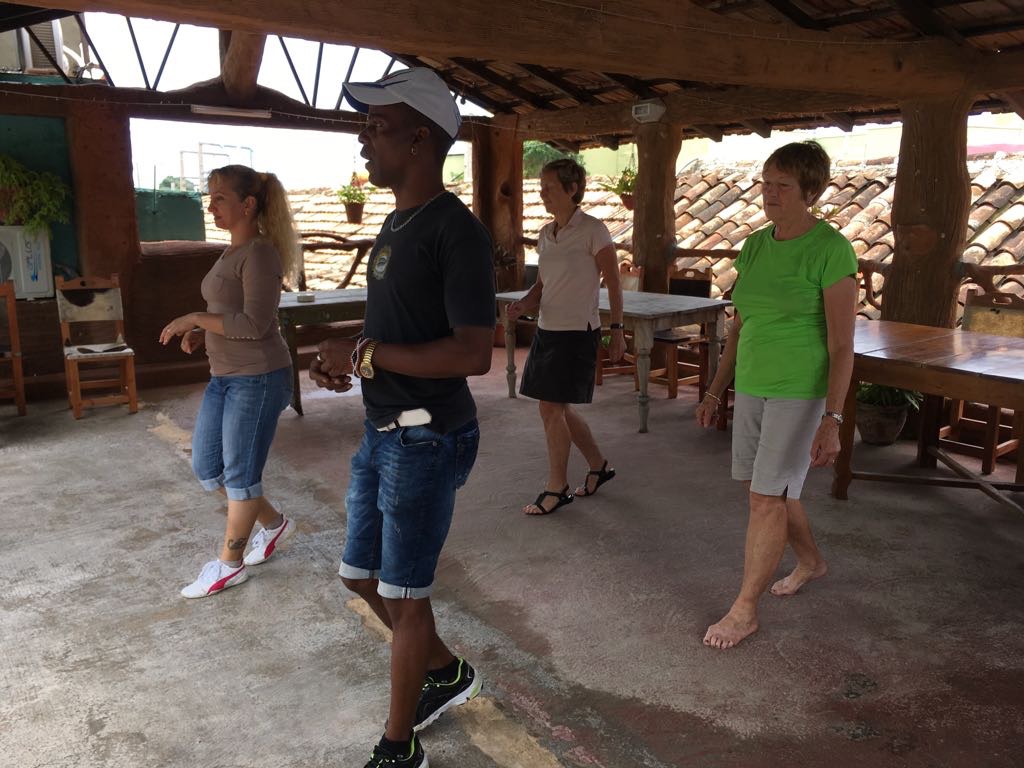 Exploring the countryside in Viñales
Viñales is one of the most popular country towns in Cuba. The town itself is very traditional and colorful! Viñales is a town where the tobacco industry has flourished and is the best place to explore the fields. You can take a tour of a tobacco farm where you will learn about the tobacco plant and how to roll your own cigar.
The views of the rolling hills and lakes near Viñales are beautiful. Exploring Viñales is something that you won't forget and a 'must-do' if you travel to Cuba!
 Meeting Cuban People
It's safe to say Cubans are some of the most laid back and charismatic people in the world. As you walk the city streets or explore the countryside you will likely be welcomed with friendly, local, stress-free smiles. Just seeing the Cuban people and learning about their day to day lives is a truly eye-opening experience.
The Cuban Coastline
Cuba is a small island nation in the Caribbean. With that comes a few things like amazing beaches, world-class diving, and an array of marine life. Once on its shores, there are a few coastal cities and small islands off the coast that are perfect for that classic island getaway. Cuba's beaches stand tall on the world stage and should not be underestimated.
Local Produce
A few things Cuba is famous for are cigars, rum and organic honey! In fact, it's not uncommon to have them all at once. As you may know, Cubans really enjoy a cigar while sipping a glass of rum. But did you know they also dip the end of the cigar in their famous organic honey? This adds an organic filter and also seals the cigar so the end doesn't get soggy!
In Cuba, there are literally hundreds of authorised cigar dealers that have products that you can take home to almost all countries including New Zealand! In Havana, you can visit the actual Havana Rum museum but you can find a bottle at any corner store for under $10 USD.
Sustainable Tourism is a Win for Locals
Cuba and many of its people rely on tourism. In a country that has struggled economically, tourism breathes new life into Cuba and the locals deserve it.
The ways that many travellers can help is by staying in local Casas. These are simply people's homes that have been converted into small hotels. Many of these are extremely nice and the home owners will even cook traditional Cuban meals for you. The experience of living in a Cuban Casa is one not to miss!
Cuba's unique history and amazing culture have put this small island nation back in the spotlight for every traveller. With the country working hard to increase its tourism, you can now enjoy Cuba's authenticity without sacrificing that easy holiday vibe! If you do decide to travel to Cuba, you won't be disappointed!
We have a wide variety of tours in Cuba! We offer an 8-day classic tour, 9-day Cuba comfort tour, 20-day complete tour, as well as a 15-day in depth tour! Contact us today with questions or to book!